Down the hole hammers KRYPTON are completely manufactured in the new Bari-Modugno plant. They are the result of continuous studies and tests aimed at the realization of a hammer suitable for both cliff drilling during artesian wells' dig (water wells) and consolidation in civil works. With his CNC machine tools, F.G.S. Drill manufactures on his own every single component of the hammers. This allows a deep knowledge of the product and a prompt solution to any kind of technical problem, also thanks  to a highly qualified staff. All the manufactured components are continuously followed starting from the choice of raw materials, with a particular attention to dimensional tolerances and heat treatments. In order to maintain the entire production process under constant control and to assure a total quality of the product, F.G.S. Drill has bought a furnace that allows the in-house heat treatment of all the inner parts of the hammers. In addition, every hammer is tested before leaving the plant to assure to the customer the perfect functionality of the final product.
The KRYPTON hammers' dimensional range goes from 3″ to 12″.
All the hammers are adaptable to customers' perforation requirements, with the possibility to add on the internal air distributor different plugs to choke the compressed air pumped in. Our strength is the ability to assure to the customers the quality of the final product and the possibility to have spare parts promptly delivered with extremely competitive prices.
In addition, F.G.S. Drill offers the possibility to overhaul the hammer even after several years in order to restore the initial functional condition.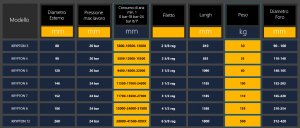 Catalogo
Guarda e scarica il nostro catalogo